---
---
It all depends on the Surgeon and technique you choose.
Experienced Surgeon With Technicians
Hair Transplant Cost in India – By Surgeon
| | | | |
| --- | --- | --- | --- |
| SURGEON | FUT/PER GRAFT | FUE/ PER GRAFT | AHT/PER GRAFT |
| SURGEON WITH TECHNICIAN | 30 -70 RS | 40-80 RS | 50-100 RS |
| SURGEON HIMSELF | 50-90 RS | 60-100 RS | 70-120 RS |
| | | | |
Hair transplant cost in India varies by procedure and surgeons' technique. All the surgeons in this category are very expensive because of years of experience and proven quality results over a long period. These surgeons have busy schedules.
It is common for the price of a hair transplant cost in India to be between 25,000 and 3,00,000 rupees. Total grafts required and graft rate per graft are multiplied to determine the actual cost. The hair transplant cost of the same technique and treatment also varies based on clinic location, doctor experience and popularity.
Extent of Hair Loss
Baldness area and number of grafts needed in case of baldness. This is the blueprint for cost estimation.
Hair transplantation type selected?
The procedure types we provide at our clinics are FUE, FUT, DHI, and Advance FUE, which cost differently and can take longer depending on the baldness pattern.
A doctor's/a surgeon's reputation and the quality of his or her clinic
Clinic quality and the experience of the doctors/surgeons determine the cost. It is always better to select the best doctor when it comes to Hair Transplant because it is a medical procedure.
One Surgeon can perform only one surgery in a single session, and maybe two when fewer grafts transplant is required.
Therefore, to perform a large number of hair transplant surgeries, they use technicians or assist in extracting and implanting hairs.
This process has its disadvantages. The result can never be the same when the technician does the implant and not the leading Surgeon. And patients are already paying the high prices without knowing the fact.
Experienced Surgeon Without Technicians:
The surgery performed by the main Surgeon himself is the most effective way to get the best hair transplant results. The whole process from designing the hairline to extraction and implantation of hair is done by an experienced surgeon.
Advantages of this surgery
Natural-looking hairline
Perfect hair growth
No scars on receiving area
No pain after surgery
Hair Transplant cost in India- By Technique
FUT (Follicular Unit Transfer)
This is one of the most common methods for hair transplantation. However, any surgeon rarely follows this procedure, and the FUT method leaves the stitches scars. It is not recommended for men who want to keep short hair, as these scars are pretty visible.
Follicular Unit Extraction (FUE)
Less invasive than FUT
A minor stretch and a feeling of pain after surgery.
No linear scars appear on the back of the scalp.
Ideally suits patients who are in the early stages of hair loss.
Follicular Unit Extraction is a method of hair transplantation where doctors remove the hair follicular units from the donor region of your scalp one at a time. FUE is recommended for those who have a less scalp elasticity. FUE hair transplant cost is higher in India compared to FUT surgery. There are many advantages to using FUE include:
Autologous Hair Transplant (AHT)
AHT technique is advance version of FUE, The whole procedure of AHT is performed by the main surgeon. After hair extraction the grafts are preserved in growth factor solution to get the outstanding results. Watch the video to know AHT hair transplant cost in India.
Check the video
| | | | |
| --- | --- | --- | --- |
| Grafts | FUT COST | FUE COST | AHT COST |
| 500-800 | 15,000-50,000 Rs | 20,000-60,000 Rs | 25,000-70,000 Rs |
| 800-1600 | 24,000-80,000 Rs | 32,000-90,000 Rs | 40,000-1,00,000 Rs |
| 1200-2000 | 36,000-1,00,000 Rs | 48,000-1,30,000 Rs | 60,000-2,00,000 Rs |
| 2500-3500 | 75,000-2,10,000 Rs | 1,00,000-2,40,000 Rs | 1,25,000-3,00,000 Rs |
| 3000-4500 | 90,000-2,80,000 Rs | 1,20,000-3,20,000 Rs | 1,50,000-4,00,000 Rs |
Hair Loss Pattern and Grafts Required
STAGE 1
In stage 1, there is little to no signs of hair loss or a receding hairline.
Surgery Needed – No Surgical Process Required
Number of Grafts – None
Location – N/A
STAGE 2
Stage 2 of the Norwood scale, there is slightly receding hairline at the temple.
Surgery Needed – May Be (To improve the hairline)
Number of Grafts – 500 – 400
Location – Hair Line
STAGE 3
Hair loss begins to appear with temple line giving it "M" shape when seen from above.
Surgery Needed – Yes
Number of Grafts – 800 – 1600
Location – Front & Mid-scalp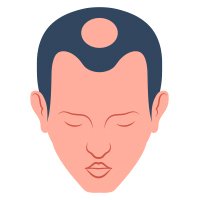 STAGE 4
At this stage, hairline recedes more giving it "M" shape when seen from above. The hair loss on the crown is larger. But there is still some hair are visible between the crown area and hair line.
Surgery Needed – Yes
Number of Grafts – 1000 – 1800
Location – Front & Mid-scalp
STAGE 5
The stage 5, the hair loss is bit more severe with "U" shape when seen from above, area between the balding crown area and the receding hairline appears with no to limited hair.
Surgery Needed – Yes
Number of Grafts – 2500 – 3500
Location – Front & Crown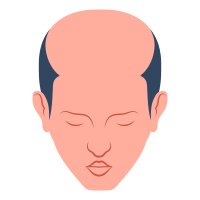 STAGE 6
Now at this stage, the balding appears farther spread on both the hairline and the crown area.
Surgery Needed – Yes
Number of Grafts – 3000 – 4500
Location – Front & Crown
How Much Does PRP Treatment Cost in India
There are several hair clinics in India that provide PRP hair treatment and the cost of a session ranges from Rs.4,500 to Rs.15,000. These are the factors that determine the price:
An experienced dermatologist or a reputable clinic
That uses high-quality machines for the procedure
How many sessions are required
| | | |
| --- | --- | --- |
| City | Minimum Cost | Maximum Cost |
| Delhi | Rs 5000 | Rs 12000 |
| Mumbai | Rs 5500 | Rs 12500 |
| Kolkata | Rs 3500 | Rs 10000 |
| Chennai | Rs 4000 | Rs 11000 |
| Bangalore | Rs 4500 | Rs 14000 |