While shopping for makeup essentials you must have come across an eyebrow pencil. The remedy to dark and fuller eyebrows is to use an eyebrow pencil. People with thin and sparse eyebrows opt for this method to darken their eyebrows. However, there's a permanent solution for this problem as well.
The solution is eyebrow reconstruction. It is an effective cosmetic procedure that can widen your eyebrows like never before. It is performed by a surgeon with utmost care. Therefore, the chances of error get minimized.
Before going for this procedure read the full article and get deeper insights on eyebrow reconstruction.
What is an eyebrow reconstruction?
An eyebrow reconstruction is a cosmetic procedure where hair grafts (plugs) are transferred to your brow area. Due to this, you can get a fuller eyebrow. This entire process is carried out by an experienced surgeon very carefully.
The procedure of eyebrow reconstruction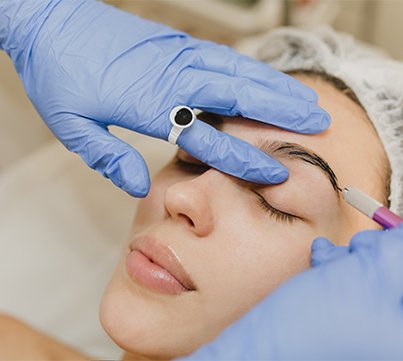 This procedure resembles a general reconstruction of the scalp. Eyebrow hair grafts are usually extracted out from hairs above your ears. During this process, not just the individual hairs are being transferred, but the hair follicles, too. This ensures new hair growth in the eyebrow region. This procedure is carried out by an expert surgeon. Therefore, the chances of errors are minimal.
During the eyebrow reconstruction, the surgeon induces a general anaesthetic and makes small incisions at the follicle donor region and in the fixating site which is the brow region well.
Eyebrow reconstruction needs to be carried out very carefully. Thus, the entire process takes about two to three hours.
Merits of eyebrow reconstruction
It can help you to get fuller eyebrows is a permanent solution for getting broader eyebrows
It decreases the need for eyebrow makeup
It can enhance your overall look
Demerits of eyebrow reconstruction
It can be expensive for the masses
It may not give quick results
It can take several months to show effective outputs
There are chances that some follicles won't produce hairs as per expectations
Who shouldn't undergo eyebrow reconstruction?
People with certain disorders shouldn't go for this procedure such as:
Alopecia areata
Trichotillomania
Bleeding disorders
A history of severe disorders
Possible side-effects of eyebrow reconstruction
There are several risks involved in the procedure but if a person suffers from complications after surgeries then they must visit an expert or else the situation might get worsen.
There are also risks associated with the surgery itself. Talk to your surgeon about the following potential adverse effects after the surgery:
Excessive bleeding
Nerve damage
Swelling
Bruising
Infection
scarring
Things you should take note of:
Get your body examined properly from credible sources
Before surgery make sure you give the details of your disorders, deficiencies, medications etc to your surgeon
Visit a very credible source like Monaris hair transplant
Follow all the instructions given by your surgeon
In case of any sort of adverse effect do not shy away from visiting a medical professional
Do not expect immediate results as the eyebrow reconstruction takes time to get noticeable.
Avoid makeup after surgery in the eyebrow region as that might cause irritation and other related issues